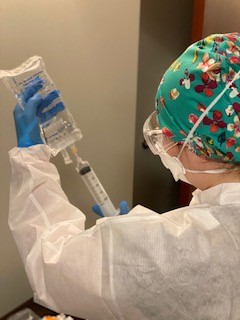 Meadowbrook Rehabilitation of La Grange in La Grange, Illinois, Meadowbrook Manor of Naperville in Naperville, Illinois, Meadowbrook Manor of Bolingbrook, in Bolingbrook, Illinois and Lee Manor in Des Plaines, Illinois are among the first nursing homes in the State of Illinois to have been selected to administer the monoclonal antibody treatment (Bamlanivimab) as clinically appropriate for COVID residents in their skilled nursing facilities.
The Department of Health and Human Services has selected Coram, a CVS Health company, as part of a limited pilot in 7 geographic areas, to administer the emergency-authorized monoclonal antibody therapy (Bamlanivimab) to eligible COVID-19 skilled nursing residents at risk of severe infection or complications resulting from the virus.  Each of the Meadowbrook facilities and Lee Manor have been selected as sites for this HHS Coram limited pilot program with the first residents receiving the treatment on December 18th.
Coram began administering the single-dose IV therapy in long-term care facilities in seven cities and their surrounding communities starting on December 3, 2020, including Boston, Chicago, Cleveland, Los Angeles, Milwaukee, Minneapolis and Tampa. Bamlanivimab is an investigational monoclonal antibody therapy developed by Eli Lilly and Co. and AbCellera Biologics Inc.  It received FDA emergency use authorization on November 9, 2020.
"The ability to administer this life saving treatment on-site to clinically appropriate nursing home residents is a watershed moment for these skilled nursing facilities, and we are proud to have been selected to be among the first in our state to participate in the study" – Kiran Dhillon, MD – Infectious Disease Physician.
###
ABOUT MEADOWBROOK and LEE MANOR
The Meadowbrook's and Lee Manor represent nearly 1,000 licensed skilled nursing home beds and resident lives in the greater Chicago area. This dedicated healthcare team has been diligently working to provide for the safety and health of its staff and residents throughout this unprecedented public health care crisis.  For more information, please visit https://meadowbrookrehabilitation.com/ or https://leemanor.com/