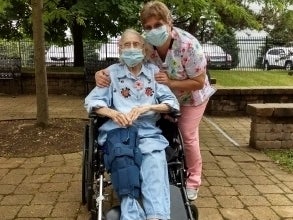 BOLINGBROOK, IL — When times are tough, heroes emerge. We all know someone who's making a difference right now as we live through unprecedented and changing times.
Here at Patch, we've launched an initiative to help recognize these heroes making a difference in their communities. Together with Ring, we're working to let all your neighbors know about these outstanding people and their stories.
This submission comes from Gordon Manley who nominated Nancy Evens, who are both Bolingbrook community members:
Name:Nancy Evens
State:IL
Home town: Bolingbrook
Hero's job: Health Care
Relationship to nominee: My mom's nurse
Reason for recognition:Nancy, an experienced nurse, joined Meadowbrook Manor Nursing Home staff amidst the coronavirus outbreak. When it was hard to get a call answered, Nancy kept the family video connected, updated, and been a friend to my Mom. She's been a real angel.
One thing to know: Very compassionate to patients and reaches out to keep families informed.
Thank you for all you do, Nancy!